As badly as you just want to help your senior, it's entirely possible that she's not interested in anything you can do for her. It could be that she's just feeling extra stubborn, or there may be more going on than you realize.
Keep Your Approach in Mind
You might think that you're offering help in a friendly, happy way, but your senior may see the whole situation differently. Keep your tone of voice in mind and don't try to fake your emotions. It's also important to remember that you might be frustrated, but if you sound frustrated when you're talking to your senior, that's probably not going to be convincing for her. If anything, it's likely to be a huge frustration for her in return.
Listen to What She's Telling You
As your senior explains that she doesn't want or need help, really listen to her. Don't worry about what your argument will be in return, just listen. Even if she doesn't tell you exactly why she doesn't want your help, she may be dropping other hints that can help you to figure out some of the deeper issues. If you're not making it a point to listen closely, you can miss some of these.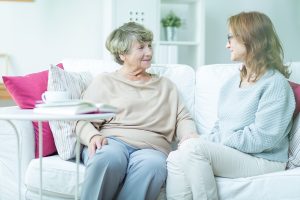 Watch What's Actually Happening
You've definitely got opinions about what's happening, but you may need to do some more observing. What are you really seeing? Is your senior struggling and creating more problems for herself, or is she having a tough time, but she's still making progress? There's a difference between struggling because something is impossible to do and struggling because it's more difficult than it used to be. It's important for you to be able to make that distinction.
Don't Try to Make Her Accept Help
Forcing help on your elderly family member isn't the way to go, though. If she's truly not willing to accept help, there's not a lot that you can do unless her safety is at risk. Let your elderly family member know that you're there for her and that you're willing to talk about a compromise that helps both of you to feel comfortable.
Sometimes people find it easier to accept help from someone that they don't know as well as a family member. If you're starting to think that might be the case for your senior, it might be worth bringing in home care providers. They can offer the help you've been trying to offer, possibly with different results for your senior.
If you or an aging loved one is considering hiring home care in Queens Creek, AZ, please call the caring staff at Golden Heart Senior Care of Scottsdale at (480) 284-7360. We are here to help!