It's tax season again. While the pressure for most people seems to be the work involved in gathering tax information and filing taxes, for caregivers, part of the work to be done is in reminding older adults to avoid tax scams. Unscrupulous people use tax season as another means of scamming people out of their money. Since older adults are often seen as easy targets, scammers may focus on them. One way caregivers can help seniors to avoid being scammed is to talk to them about scams that are out there and how to avoid them. Below are some scams that your elderly parent may encounter this year.
Suspended Social Security Number
Your parent may receive a call from someone claiming to be from the IRS. The person may demand money or ask for personal information. They use a scare tactic to get the money or information. In this case, they may tell the senior they have the power to suspend their social security number, cutting them off from benefits.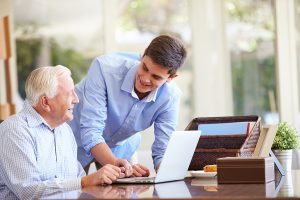 Caregivers should remind older adults that the IRS does not make these kinds of calls. They also do not suspend social security numbers. And, since they are the IRS, they already have all the pertinent information about a person, so there would be no need for them to ask for it.
Phishing
Seniors might receive emails that appear to be from the IRS. The emails will ask for personal information or provide a link to click on. When the senior clicks on the link, it can give the scammer access to their computer and personal information.
Caregivers need to discuss phishing emails with their aging parents to make certain they understand that the IRS never initiates contact with a taxpayer via email. Therefore, it's important not to respond to the email or click on links in it. Instead, they should just delete the email.
Bigger Refund Claims
Another scam involves fake tax preparers who claim they can get the senior a bigger refund than possible. They ask them to sign a blank tax form. They may also ask that their preparation services be paid for using a percentage of the return.
Caregivers can help seniors avoid this scam by assisting them in finding a legitimate tax preparer. In addition, they can talk to the older adult about how to determine if a tax preparer is real or committing a scam.
Sources
https://www.consumerreports.org/scams-fraud/how-to-avoid-tax-scam/
https://www.irs.gov/newsroom/irs-concludes-dirty-dozen-list-of-tax-scams-for-2019-agency-encourages-taxpayers-to-remain-vigilant-year-round
https://www.irs.gov/newsroom/tax-scams-consumer-alerts
If you or an aging loved one is considering hiring caregivers in Chandler, AZ, please call the caring staff at Golden Heart Senior Care of Scottsdale at (480) 284-7360. We are here to help!