There are many types of medications that doctors prescribe to help reduce the pain that people experience from arthritis. However, many of these medications come with side effects, especially if taken over a long period of time. If your elderly loved one is looking for a way to relieve arthritis pain, they might want to try natural pain relief options.
Cold and Hot Treatments
Many elderly adults use cold or hot treatments to help control their arthritis pain. You can have your elderly loved one try placing a heating pad on the joint where they are feeling the pain. If this doesn't help, you can have them take a hot bath. You can also encourage them to use ice packs which often work well for pain relief, as well.
Massage and Acupuncture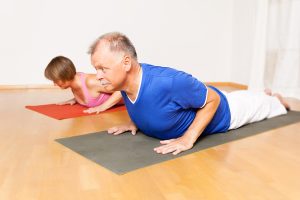 Some professionals recommend acupuncture and massage to elderly adults who experience pain due to arthritis. These techniques are designed to give temporary relief to stiff joints. It is important to speak with your elderly loved one's doctor before they do any kind of acupuncture or get a massage. If the doctor approves these treatments, you can have your loved one's senior care provider take them to these appointments.
Meditation and Yoga
Meditation and yoga can help a person relax and de-stress. These options can also help reduce pain in the joints and other areas of the body. You can find many mediation and yoga videos online that your elderly loved one can try out.
Exercising
Exercising is good for the entire body. It can also help reduce pain, improve movement, and make your elderly loved one stronger. Some types of exercise that many elderly adults use to help with pain relief include the following:
Stretching
Range of motion exercises
Strength training exercises
Seated back exercises
There are many exercise videos online that are specifically designed to help with pain relief. Just remember to have your elderly loved one check with their doctor before starting any new exercise regimen.
Maintaining Proper Posture
Maintaining proper posture is very important. If a person sits too long without moving their joints, their pain can get worse. It is important to encourage your elderly loved one to move around throughout the day. For instance, you should make sure they get up off their chair every hour. You can also walk with them around the yard or have them stand up and stretch while they watch television.
Conclusion
There are medications that are designed to help with arthritis pain. However, many of these come with side effects. Instead of using these medications, you can encourage your elderly loved one to try the above-mentioned tips for arthritis pain relief.
Sources
https://flboardofmedicine.gov/pdfs/HB451_pamphlet_6-28-19.pdf
https://www.samhsa.gov/sites/default/files/programs_campaigns/wellness_initiative/paw-opioid-prevention-fact-sheet.pdf
If you or an aging loved one is considering hiring senior care in Queens Creek, AZ, please call the caring staff at Golden Heart Senior Care of Scottsdale at (480) 284-7360. We are here to help!